FOR IMMEDIATE RELEASE
:
Ludo exhibition at 529 West 20th Street opens Thursday, 2/20 from 6—8pm

Kevin Cyr and Gary Taxali — two exhibitions at 529 West 20th Street open Saturday, 2/22 from 6—8pm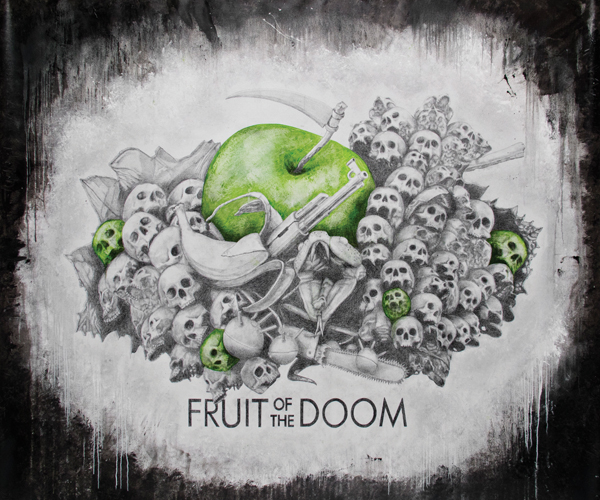 Ludo
Fruit of the Doom
Solo Exhibition
529 West 20th Street
February 20—March 22, 2014
Opening Reception:
Thursday, February 20, 6—8pm

NEW YORK, NY (January 21, 2014) — Jonathan LeVine Gallery is pleased to present Fruit of the Doom, new works by Paris-based artist Ludo in what will be his debut solo exhibition in New York. In conjunction with Fruit of the Doom, Ludo will be creating public street interventions at multiple locations in lower Manhattan and Brooklyn.

Ludo typically works in a limited color palette of black, white and green, evoking the aesthetic of early punk-era graphics. For this exhibition, he has created a series of large-scale works including thirteen paintings on canvas and a resin sculpture measuring six and a half feet tall. The sculpture portrays an oversized bunch of grapes represented in the form of human skulls, and is the artist's largest sculptural work, to date.

Ludo's imagery often merges technology with natural elements such as plants or insects. In this exhibition, the artist's trademark visual puns take the form of produce. His show title Fruit of the Doom, speaks to themes of corporate branding in pop-culture and references GMO engineering in commercial agriculture. The title is also a play on words, with "fruit" referring to the product of mankind. Ludo's hybridized fruit and vegetable subjects combined with various weaponry and other destructive manmade creations convey an assortment of issues facing contemporary society with dark humor and foreboding undertones.

ABOUT THE ARTIST
Ludo was born in 1976 in Paris, France, where he is currently based. In 1998, he received a Sociology degree from Sorbonne University and in 2000, he received a BFA in Graphic Design from Nuova Accademia de Belle Arti (NABA) in Milan, Italy. Known for his paste-ups and billboard culture jamming on the streets of his native France, the artist has also exhibited his work across Europe and the United States. In 2013, he was included in Ex-Situ, a group exhibition at Centre Pompidou in Paris.

---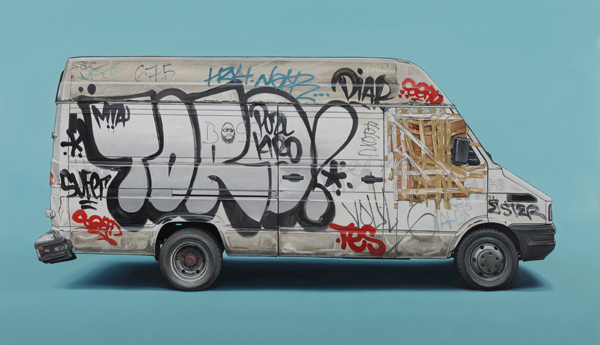 Kevin Cyr
Right Place, Right Time
Solo Exhibition
529 West 20th Street
February 22—March 22, 2014
Opening Reception:
Saturday, February 22, 6—8pm
NEW YORK, NY (January 22, 2014) — Jonathan LeVine Gallery is pleased to present Right Place, Right Time, new works by New York-based artist Kevin Cyr in what will be his second solo exhibition at the gallery and largest exhibition to date.

Right Place, Right Time includes new oil paintings on panel in a range of sizes, depicting vehicles seen on the streets of three European cities: Berlin, Brussels and Paris. This series acts as a counterpart to In Praise of Rust, Cyr's 2012 exhibition, in which he documented old vehicles seen on the streets of New York City—primarily vans and commercial delivery trucks covered in graffiti, rust, dents and other imperfections.

Transportation, travel and exploration—ongoing themes throughout Cyr's body of work—are particularly prevalent here, as the artist traveled abroad to explore the streets of foreign cities in his research for new subjects to capture. Cyr's fascination with these vans and trucks is based around the idea that they symbolize a place and an ethos. He finds himself discovering the character of each city he visits through its vehicles.

In the artist's words: "It began as a way for me to examine the uniqueness of a city and how it constantly transforms." Regarding the European locations: "Renowned for their cultural attractions and historical landmarks, these places are home to thriving street art and working-class communities. These vehicles are the workhorses of the city and their owners seem to go to great lengths to keep them operable. The largest piece in the show, Professeur Gosset, exemplifies this through the broken passenger window secured with cardboard and packing tape—functionality outweighs vanity."

ABOUT THE ARTIST
Kevin Cyr was born in 1976 in Edmundston, New Brunswick, Canada and grew up in Madawaska, Maine. In 2000, he received a BFA from Massachusetts College of Art in Boston. Cyr is currently based in New York. His paintings, drawings, sculptures and installations have been exhibited in galleries and museums, internationally. His work is included in the permanent collections of La Fondation d'Art Oxylane in Lille, France and the West Collection in Oaks, Pennsylvania. Cyr has been featured in publications such as Desillusion Magazine, Juxtapoz Magazine, Huffington Post and The New York Times.

---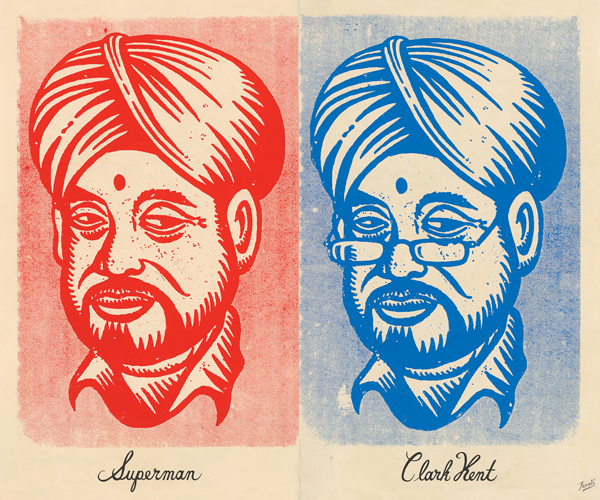 Gary Taxali
Unforget Me
Solo Exhibition
529 West 20th Street
February 22—March 22, 2014
Opening Reception:
Saturday, February 22, 6—8pm
NEW YORK, NY (January 22, 2014) — Jonathan LeVine Gallery is pleased to present Unforget Me, new works by Toronto-based artist Gary Taxali in what will be his second solo exhibition at the gallery. Unforget Me includes works on paper and panel, including the artist's largest piece to date.

Taxali creates hand-drawn typography and expressive, cartoon-like figures with layers of printmaking techniques such as rubber stamps and silkscreen. Known for a graphic style and retro aesthetic, his imagery is largely inspired by vintage animation and printed ephemera (comics, advertising and packaging). Taxali works with multiple mediums and utilizes a variety of found materials like old book covers and torn, age-worn, scribbled-on pages.

Taxali describes the exhibition as exploring: "themes of love, separation, isolation, unease, excitement, revelations and absolute joy through the overarching theme of paradoxes. In these works, my characters try to make sense of their situations and the dualities therein. Many of the works contain opposite reactions, both in concept and execution. I've also employed the use of non-existent words. An effective way for me to convey all of this is through humor, both light and dark, mocking the flaws of the human condition yet serving as a sweet reminder that nothing should ever be taken absolutely seriously—I try to unforget that every day."
---
"Gary Taxali visually blends now with then. His style, inspired by vintage comics and advertising art, is repurposed with the goal of communicating the ironies and comical essence of pop-culture. His work is at once alluring and endearing. Despite the vintage look, he is neither maudlin nor nostalgic. His imagery is rich in satiric verve."
—Steven Heller

"Gary Taxali is one of those rare artists whose work is immediately inviting and familiar, yet idiosyncratic and unmistakable. He has created a universe of characters, slogans and motifs reminiscent of '50s advertising, comics and painted signs but rendered in a minimal, sophisticated style. Though much of his work appears to be about struggle and disappointment, there is gleeful mischief, beauty and poetic irony as well."
—Shepard Fairey
---
ABOUT THE ARTIST
Gary Taxali
was born in Chandigarh, India in 1968 and raised in Toronto, Canada. In 1991, Taxali graduated from Ontario College of Art and Design University (OCAD). Taxali is an award winning illustrator and his fine artwork has been exhibited in galleries in the United States and Europe as well as museums such as the Whitney Museum of American Art in New York and the Contemporary Art Museum in Rome. In 2011, two books of his work were released:
Mono Taxali
, published by 279 Editions, and
I Love You, OK?
, published by teNeues. In 2012, The Royal Canadian Mint released a special edition of six 25¢ coins which feature Taxali's artwork and typography.
ABOUT JONATHAN LEVINE GALLERY
Jonathan LeVine Gallery is committed to new and cutting edge art. Our roots go back to 1995, when Jonathan's life-long participation in punk and underground music grew into a curatorial experiment with the visual culture that surrounded him. We moved to Chelsea in 2005, with an eye towards honoring and connecting with the history and context of Post War art. We contribute to the dialogue by challenging the conventions of the canon – exploring the terrain of the high/low and everything in between. Jonathan LeVine Gallery is located at 557C West 23rd Street and 529 West 20th Street, New York, NY 10011. For further information, please visit:
www.jonathanlevinegallery.com,
email: info@jonathanlevinegallery.com
or call:
212-243-3822
.